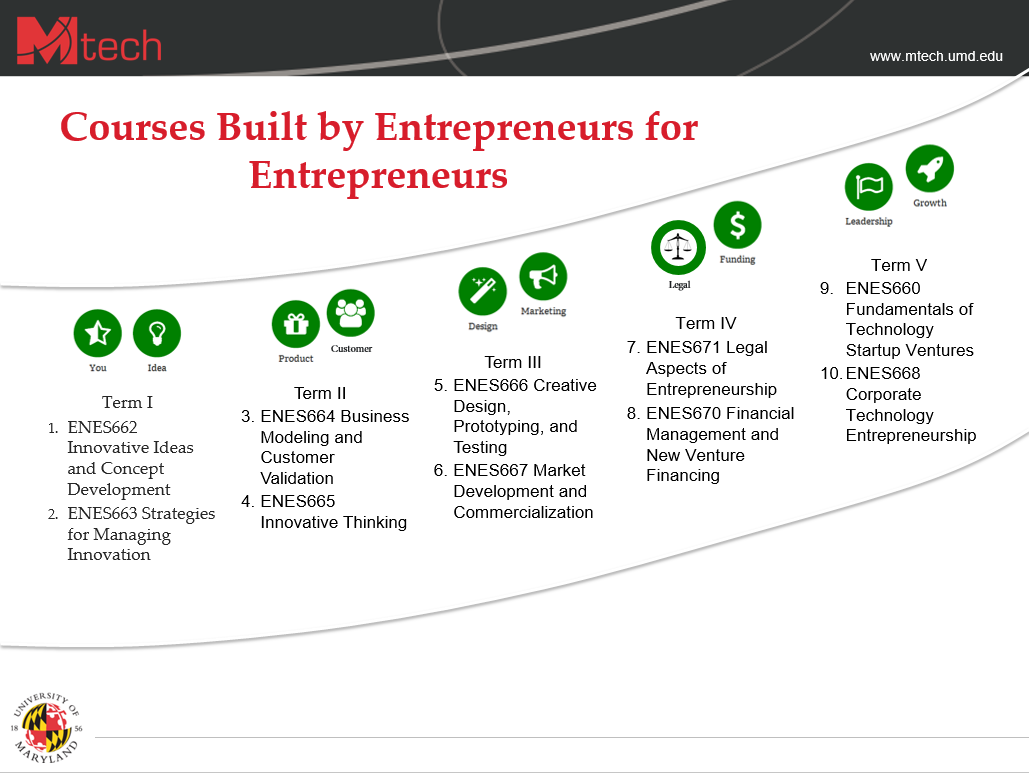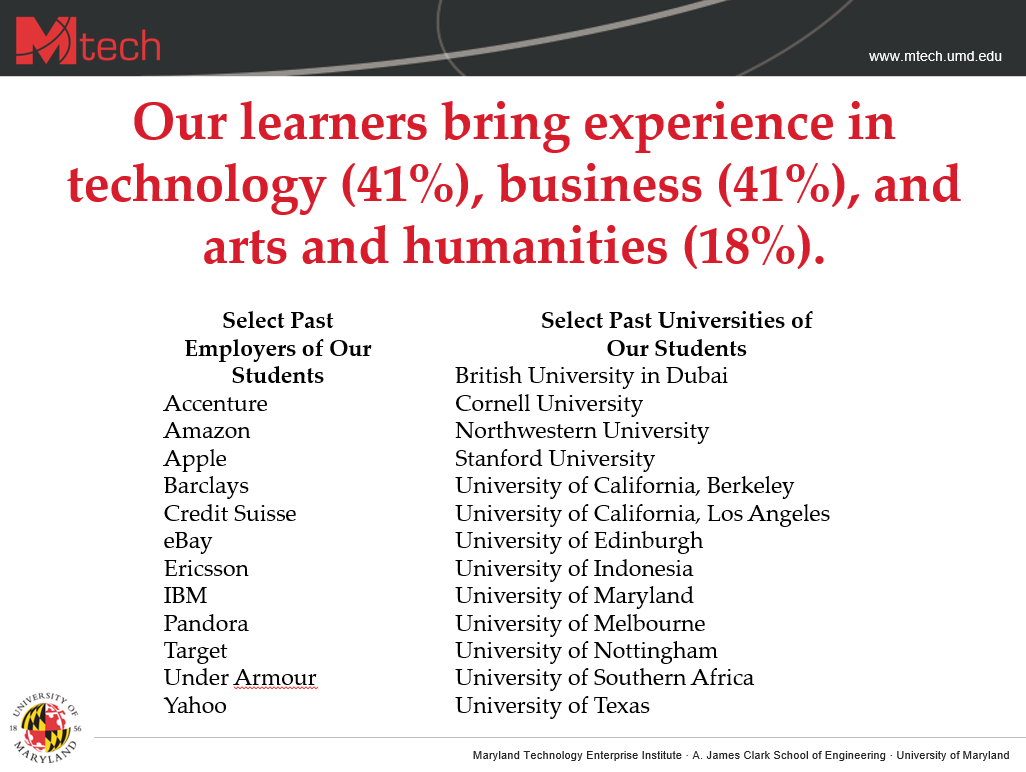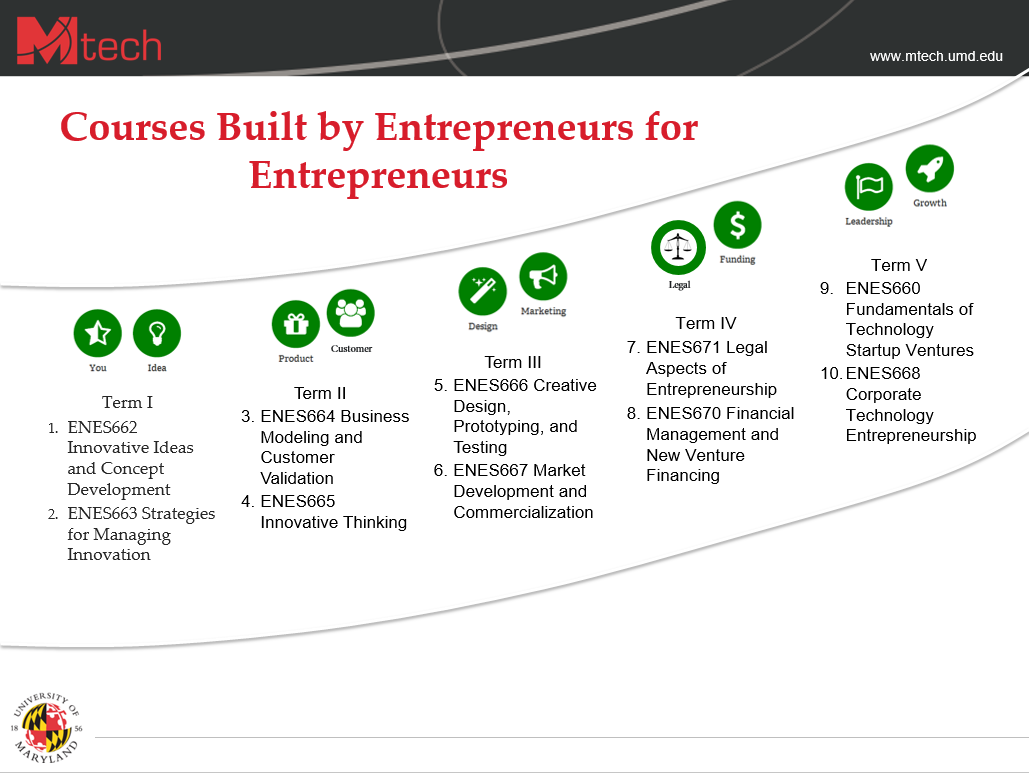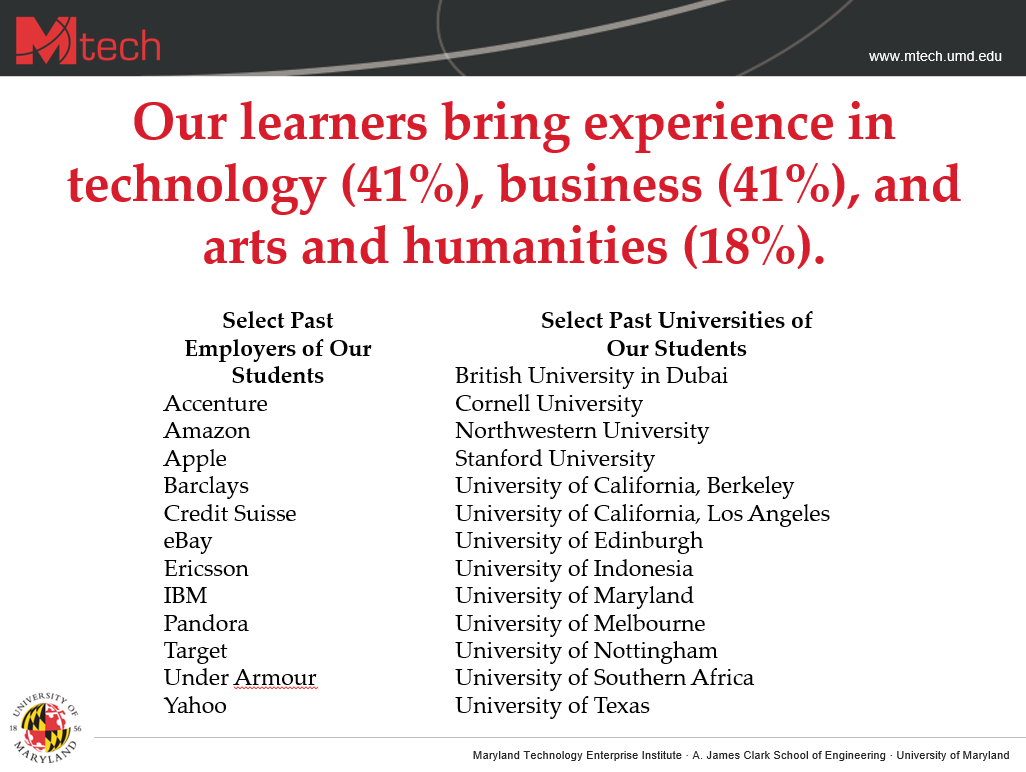 Company Profile:
The University of Maryland's Master of Professional Studies in Technology Entrepreneurship (MPTE) is a 100% online, 15-month, $19,500 program that provides aspiring and active entrepreneurs with the skills, tools, and relationships to develop and lead an innovative venture. With students enrolled from across the world, this global networking opportunity cultivates lasting personal and professional relationships to nurture new ventures.
While a master's degree is not a prerequisite for entrepreneurial success, the knowledge gained from award-winning faculty with real startup experience surely beats the expense and frustration of learning by trial and error. With students enrolled from all over the world, you can share opportunities and ideas with peers. This global networking opportunity cultivates lasting personal and professional relationships to nurture new ventures worldwide.
The application deadline for our Spring 2016 cohort is December 15, 2015. Our application is comprised of a personal statement, resume, and college transcript. Unofficial transcripts may be submitted initially. Letter of recommendation and GMAT/GRE scores are not required. International students may submit their TOEFL or IELTS scores after the application date.
To learn more about our program we invite you to visit our website at www.mte.umd.edu and watch our online information session.
Interested in a part-time position to supplement your income and experience while working on your new venture, or as a pre-graduate school experience?
We're hiring a part-time Specialist to assist with a variety of activities related to our undergraduate, graduate, and professional programs in entrepreneurship education. The Specialist will support course development and management in our online and face-to-face offerings, and assist with student recruitment and general program operations.
Minimum Qualifications:
Bachelor's Degree

Demonstrated track record in teamwork, multi-tasking, and customer service is required.

The successful candidate will possess excellent interpersonal skills as well as strong verbal and written communication skills.
Preferences:
The Specialist will ideally have started their own company or have previous experience working in a start-up environment.

Bachelor's degree in business, communications, or related field is highly prefered.

1 year experience prefered in operation, planning, and online initiatives.

Familiarity with entrepreneurship is preferred.

Ability and interest in working with university students in an interdisciplinary context is desired.
This is a part-time position of 20 hours per week for $25/hr for 6 months. All work is to be performed on-campus (College Park, MD), typically during normal business hours of 9:00 AM to 5:00 PM. Contract may be renewed once for an additional 6 months.
Interested in learning more? Email us at mtecheducation@umd.edu